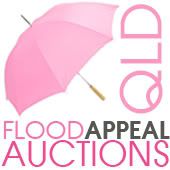 Thanks to Toni of
Make It Perfect
, craft bloggers are running auctions, raffles and sales to help in the Queensland floods relief efforts. All proceeds go to the Queensland Government Relief Fund.
I am auctioning off a necklace and 2 pairs of earrings I made. They are being auctioned as a package.
This necklace was handmade with a variety of semi-precious stones
(turquoise, rose quartz, rutilated quartz, calcite, fluorite, agate, coral and lapis lazuli).
The pendant is mother of pearl.
length of necklace: 42cm/16.5"
height of pendant: 5cm/2"
left: mother of pearl and glass beads. dangles 2cm/0.75"
right: agate, coral, aventurine beads, metal chain. dangles 4.5cm/1.75"
If jewellery's not your thing, you may find something among the goodies on offer at other blogs that have joined Toni's appeal. Check out Toni's
blog
for the list of bloggers who are involved.
This auction is open to everyone. I will pay the cost of postage. Please bid only if you are sure you can make the donation directly to the
Queensland Government Flood Relief Appeal
.
There is information at the site on how non-Australia residents can donate.
1. Bidding is in Australian $ and starts at A$20 (A$ is about equivalent to US$).
2. Please leave a comment on this post with your bid amount and email address. Please make sure that your bid is higher than the previous bid.
3. Your bid must be in whole dollar increments.
4. The auction starts now and ends on Monday January 24 GMT+1.
5. I will email the winner. The winner will pay the winning bid directly to the
Queensland Government Flood Relief Appeal
and email me proof of payment (see below). Once proof of payment has been received, I will mail you the items.
I will be out of town for 10 days from January 28, so please send me the payment proof as soon as you can or I will have to send you the package after my return.
Thank you for participating and happy bidding!
Proof of payment (adapted from Toni's suggestions)
If payment is made by
Credit Card
, a receipt will be emailed to the payer. This email should then be forwarded to me so that I can verify the payment amount.
If payment is made by
internet bank deposit transfer
, please save a pdf file at the time of making the transfer and send me a copy.
In the worst case scenario (i.e. receipt email has been deleted or pdf of bank deposit has not been made), please take a snapshot of your bank statement on your computer screen and crop the appropriate area so that it displays only the donation information.