liking...
:: these chairs from furniture design house
Bend Seating
---

:: this pendulum sound machine
Pendulum sound machine from kyoueidesign on Vimeo
How sweet is this? Japanese designer
Kouichi Okamoto's
16 brass pendulums making music on and with a record player. Several machines can be used at the same time with plates of varied sizes to create an orchestra of tinkling sounds. Cute.
---
:: this product redesign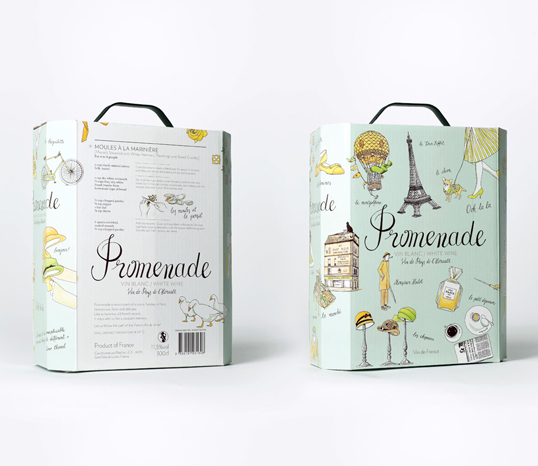 Promenade box packaging
Designers Journey
of Oslo designed this box packaging for Promenade for Norwegian wine supplier Vinordia using lots of French cliches. French street scenes, the Eiffel Tower, perfume,
un cafe
, Le Monde newspaper, geese are among the images used to create Parisian chic and a European experience even before you even taste the wine. So, feel like a glass of wine?
---
:: this notepad
I love this super original notepad from
Brussels design studio TM
led by Marc Thomasset.
32 pages, 165 x 210mm.
Inspirational.
---
other lovely things
:: artist
Dorie Millerson's lace works
. Gorgeous
:: fascinating
infographic that visually explains the imagery of the dollar bill
from Column Five Media
:: PHOTOS:
Thirteen years of delightful Google doodles (Time)
: very fun. Did you not strum on
that guitar
last week??
::
this pin
from Pinterest (source??)
::
these Fritz Hansen Swan Chairs customized
by designers for SUITE New York's The Pink Swan Project benefiting
The Breast Cancer Research Foundation
.
::
Epic Exquisite Corpse
by
Xavier Barrade
: an interactive drawing project anyone can participate in. Go on and draw!
[ check out my other likes and discoveries ]
---
please leave me a message if you enjoyed this.
You can
follow me on Twitter
or get updates from this blog by
♥
following me (click on the Google Friend Connect "follow this blog" button at the top of my sidebar) or
♥
subscribing by email through this form
by liberal sprinkles